Our PC configurator for your dream PC
The perfect PC is the one that perfectly suits you. Whether it's for gaming, streaming, photo editing or any other task that lies ahead of you. For the perfect match, there's our PC configurator: Simply put together your perfect PC according to your own wishes and requirements. Decide for yourself about performance, looks and service for your system. Whether it's a gaming PC, streaming setup, workstation or laptop - with the configurator you'll get exactly what you need!

OPTIMIZED
Create your own PC exactly according to your wishes and requirements.

CUSTOMIZED
Say goodbye to boring basic systems! Choose design and lighting according to your taste.

VERIFIED
The intelligent configurator checks live whether all components are compatible.

FAST
Built - Tested - Shipped - Delivered. Your custom PC will be with you in just a few days.

PROFESSIONAL
Your system will be assembled for you by our experienced technicians. Including clean cable management, function test and pre-installation.
GUARANTEED
3-year warranty, pick-up service, on-site repair? No problem at all! Choose the best possible service for you. Our professional team is always there for you!
PC CONFIGURATION: THIS IS HOW IT WORKS!
With our configurator, it's easy to put together your perfect PC. Just choose a basic configuration that suits your needs and bring your customized dream system to life with just a few clicks! Whether it's a mainboard with WLAN, more RAM or a cool lighting, everything is possible.
But does THIS cooler fit into THIS case? Does the RAM fit to the board and will the PSU be strong enough? - Don't worry, you don't have to be a hardware professional: The configurator checks live if all components fit together. So you have full freedom and 100% certainty that your system will run perfectly in the end at the same time.
Just follow the 6 simple steps:

(1) Assemble your base from CPU, graphics card, case, motherboard, RAM, SSDs, power supply, cooler and more.
(2) Customize your PC with additional RGB Stripes, Controllers or specially engraved AIO Caps
(3) Choose your Windows version so that your new system is pre-installed and ready to go.
(4) Want a little more? Choose optional services and extend your system warranty.
(5) Finish off your setup with accessories like mouse mats or our exclusive gaming chairs with Alcantara.
(6) Done! After placing your order and receiving payment, your custom-built PC will go straight into production! *
* Important: Please note the delivery time indicated in the configurator. The actual delivery time is based on all selected components.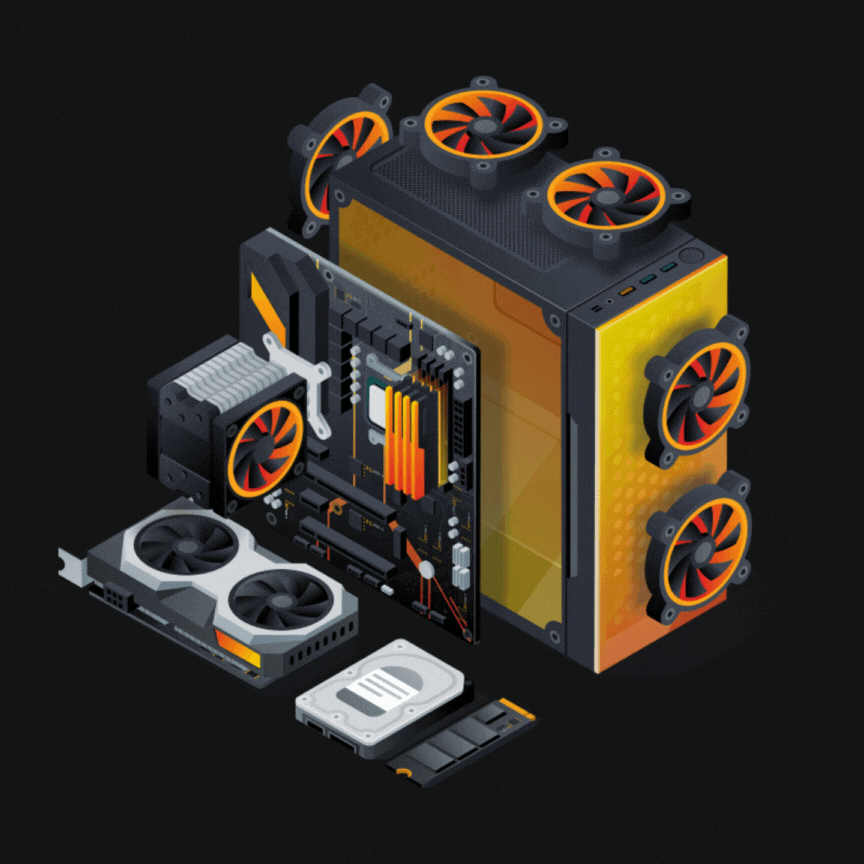 Do you have questions? Let us have the answers!
We know that sometimes it can be hard to make the right decision and want to help you find the perfect PC for you. If you have any questions about our configurator or are unsure which components are best for your dream PC, don't hesitate to write or call us. Our experts have a lot of experience to help you with all your questions. We are always here for you and happy to help!
You can reach us in Live Chat and at

info@jouleperformance.ch / 041 785 12 13

info@jouleperformance.de / +49 61 884 47 9917

info@jouleperformance.at / +43 1 2676214
FAQ: Essential information about the PC Configurator
Why can't I find some manufacturers / components in the configurator?

Your gaming, streaming or working system should accompany you as long as possible. Therefore, only the best components from renowned manufacturers are used for our systems.
Over many years, we have tested countless components, from cases to hard drives. Only a few meet the extremely high standards for performance and durability that we set for true #swisscrafted quality.
All components that you find in the configurator have been thoroughly tested and we already use them in our pre-configured systems. In short: Quality over quantity!
Of course, we continue to test and add new hardware to the configurator.
Do you miss a special manufacturer or a certain component? Let us know via chat or mail! We are always open to new ideas and look forward to your input :-)

How long do I have to wait for my self-configured PC?

The delivery time depends largely on the components you choose. Basically, the following applies to individual components:

green

= in stock

orange

= available in 7-14 days

red

= available in 2-6 weeks

The delivery time of the whole system results from all selected components. That means: If a component is on orange or red, we have to wait until everything is in stock before we can assemble it.
If all components are available immediately, our team will get to work and your system will be with you in a few days.
Please keep in mind that there may be small delays due to weekends, holidays or extremely high order volumes (e.g. just before Christmas).

What does "pre-installed" mean?

.All Joule Performance systems, no matter if gaming, streaming or professional, come pre-installed and "ready to use" to you, as long as you select an operating system. That means we install the desired Windows edition for you and test the PC with operating system for functionality.
We do not install any additional software in order to give you full freedom to choose what you want to use on your system. This ensures that you get a really clean, brand new system and can choose your own add-ons, for example for hardware optimization or RGB lighting.

Why does the configurator show "Conflict with product selection"?

The configurator automatically detects and warns you in case components do not fit together. There can be two types of conflicts:

The components are technically incompatible. For example, the motherboard needs DDR5 RAM, but you have selected DDR4 RAM. Or the cooling system you selected doesn't have enough power for the processor you want.
The components don't fit in the right place. Example (see picture): You have selected a specific RAM as well as an AIO cooler. We know from production that there is not enough space in the desired case for both components: The RAM would collide with the cooler.

If there is a conflict, you have two options:

"Continue anyway": The last component you selected will be accepted, the component that doesn't fit will be cleared, and you'll make a new selection. Example: You last selected a cooler that is incompatible with the Case. The cooler is accepted, the case selection is reset and you select a new case.
"Cancel selection": The last selected component that caused the error will NOT be selected. All previously selected components remain selected. Example: You last selected a cooler that is incompatible with the case. The cooler is discarded, the case remains selected.